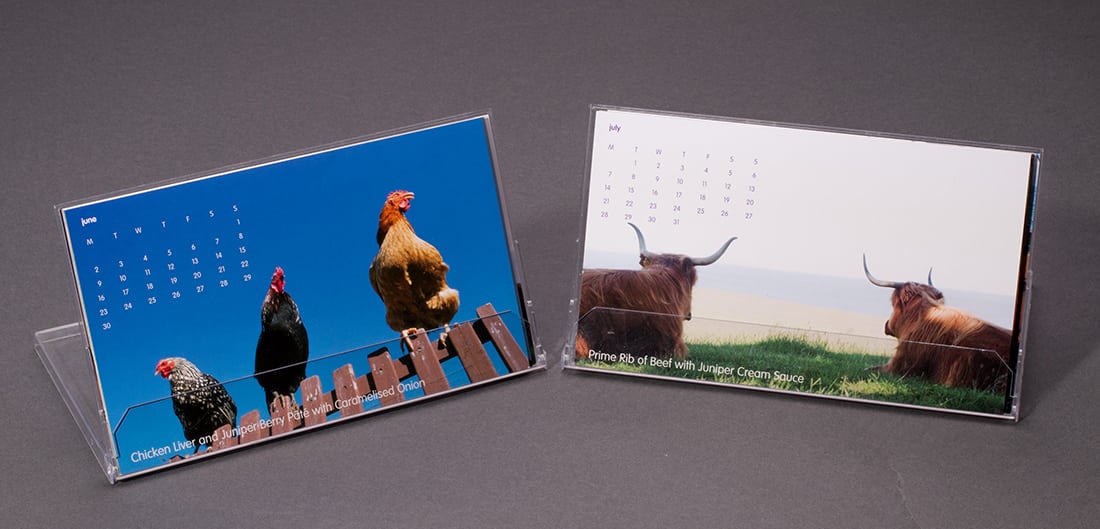 What do you give someone with their own business for Christmas?
Do you remember that campaign – "Pets aren't just for Christmas"? Well at Wag Design we believe the same goes for the branded Christmas presents that businesses send out to customers.
So instead of a robin on a card which ends up in the recycling bin by January 1st, wouldn't it be more beneficial to you and gratifying for your customers if they received a really useful gift? One that's a daily reminder of your services or products all through next year? Not only that, but their own clients might also admire your gift and enquire about you too.
Now's the time to be thinking about the right sort of gift you can send to your most valued customers, so here are some ideas and suggestions for playing Santa and getting into your customers' good books for the new year.
Calendars
What better way to have your brand seen every day than to produce a calendar? Whether it's in a CD case format on your customer's desk or hanging on their office wall, an attractive calendar image with an inspirational, aspirational and informative message will make people look forward to turning over a new page each month.
Email banners
It's not a gift however a festive email banner is an inexpensive addition to your Christmas branding campaign, putting people in the right mood and keeping your brand on display. Your banner can also coordinate with any calendars or cards you send out.
Edible gifts
If you get it right then something like branded chocolates can make a very positive impression, but a food gift will probably disappear quite quickly.
A compromise might be to send out your gifts in an attractively branded container. One of Wag Design's clients asked us recently what we're sending out this year because she loved the personalised gingerbread tin we gave her last Christmas.
Picking the right food can be a gamble, so check that you understand a customer's tastes and any dietary restrictions. Also make sure the food won't go out of date any time soon.
Gadgets
Choosing something useful to give clients will keep your name prominent throughout the year and beyond, but it needs to be relevant and consistent with your brand and values. For example, another client of ours, an SEO expert, is sending out branded computer adapters to clients this year.
Whatever you give, be subtle
Your clients may not want to see your face or pictures of your product every day, but using your branding colour scheme or a discreet logo can work subliminally to keep your name in mind.
For one of our clients, The Juniper Company, we've been thinking of a new idea each year for the last 12 years that links their brand to a theme for use on a calendar. One year was the recipe year. We used 12 recipes, all using juniper as an ingredient, with beautiful photography on the front of each page and the recipe on the back. The Juniper Company's clients ask for the calendar each year, so their logo is on desks every day, all year round.
Don't leave it too late
If you want to build your client base while keeping the loyalty of your existing customers, then don't wait until a couple of weeks before Christmas before you think about branded gifts. Start thinking about a suitable gift now or talk to us if you need help with ideas.
About Wag Design
Wag Design has more than 20 years' experience designing and protecting brands.
Our aim is to focus on what makes your company unique, helping you build a higher profile and enabling you to go about your day to day business, confident that your message is clear and consistent.
From gifts to presentation slides, exhibition banners to invoices, we put your brand in front of potential customers.
To find out how we can help you to build a consistent brand and enhance your reputation, contact us on 01420 22731.